Hydro Multi-S
Hydrophore Systems


Grundfos Hydro Multi-S booster systems consist of two or three identical models of Grundfos CM, CMV or CR pumps, an engine-protected control cabinet and an integrated controller, connected in parallel and mounted on a common skid. Hydro Multi-S pressure booster systems; pre-assembled and tested complete with intake and discharge manifolds, isolation valves, check valves, pressure gauge and pressure switches
System Features
---
---
Automatic pump replacement
---
Easy-to-use control panel
---
Contact output for alarm signal
---
Easy bypass operation in case of electronic controller failure
---
Automatic operation when dry running failure disappears
---
Manual reset of overload failure
---
---
Chassis: Galvanized collector: AISI 304 stainless steel
---
Usage areas
---
---
---
MQ Series
Hydrophore Systems

The MQ pump is a compact design solution that provides water for agricultural and garden operations as well as domestic applications.
Specifications
---
Discharge Height H: Max. 45m
---
Liquid Temperature: Between O˚C and + 35˚C
---
System Pressure: Max. 7.5 bar
---
Usage areas
---
---
---
MQ is suitable for the transfer of drinking and rainwater
---
SP Series
Submersible Pumps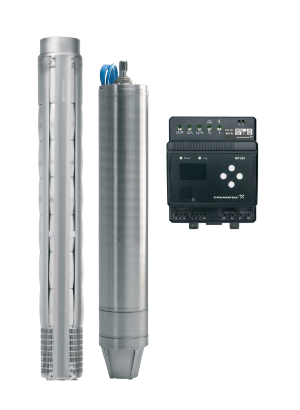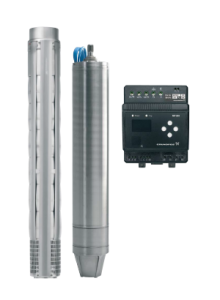 Grundfos SP submersible pumps stand out with their high efficiency and reliable performance in the series. These pumps, all parts of which are made of corrosion-resistant stainless steel, are ideal for many applications.
The most advanced technology is used in hydraulic designs. SP pumps have been developed to provide optimum efficiency during periods of high demand.
Specifications
Max. liquid temperature: 40˚C
---
Max. Pump option up to 280m3 / s and 600 m
---
Max. It can be used in liquids containing 50 mg of sand per liter.
---
Usage areas
---
Irrigation of vegetable gardens and agricultural areas
---
Lowering the groundwater level
---
---
CR Series
Vertical Stage Pumps

Designed to meet almost any industrial application, the basic CR pump series offers the widest product range to the pump solutions market. Grundfos has further expanded its CR series with a modular approach.
Four different materials are used in the basic CR pump series: cast iron, two different grades of stainless steel and all titanium.
Specifications
Liquid temperature range: -20˚C + 120˚C
---
---
Usage areas
---
Washing and cleaning systems
---
---
---
---
---
As a manufacturer of high-end devices, A.O. Smith aims to maximize the convenience for the users. In this respect, we provide all necessary support by guaranteeing the flawless operation of our products.
We promise to prioritize the satisfaction of our customers throughout the service life of our products.
Therefore, A.O. Smith has a comprehensive range of services such as commissioning, service and maintenance.